Tannico Group has been present in Italy since 2013, and in France since 2021, thanks to the acquisition of VALAP, one of the main premium wine & spirits e-commerce players in France. The two societies in 2021 have successfully dealt with over 600,000 orders and delivered 4,5 million bottles across the world. The year was closed with over 76 million euros of revenue (+105% over the previous year). In 2020, Campari Group entered Tannico's capital with a share of 49%, while in July 2021 Moët Hennessy (part of the luxury group LVMH), joined Tannico's capital in a joint venture at 50% with Campari Group.
In 2021 Tannico inaugurated a new high-end warehouse in Castel San Giovanni (near Piacenza), where a fully automated and robotised facility hosts over 500,000 bottles, and where environment sustainability is deeply taken into consideration: for the better part of the year the system uses renewable energy, thanks to the 3000 square meters worth of solar panels.
Tannico Group intends to revamp the wine industry, both in its dynamics of sale and purchase, especially hinging on the 5 company pillars: technology, innovation, passion, vision and most of all courage.
The company is active in the B2C market with Tannico website in 23 countries and VALAP in France; as well as the B2B market with the service Tannico.biz, devoted to Ho.re.Ca. In a pure omnichannel vision, Tannico is also active in the retail field with the Wine Bar downtown Milan and the Wine Corner in Mercato Centrale, also in Milan.
The catalogue boasts over 12,000 references coming from about 2,500 wineries. Tannico is able to satisfy even the hardest-to-please palates with a special section of Rare Wines: rare labels, unique wines and bottles for true connoisseurs. It's a section especially devoted to great enthusiasts, a constantly developing catalogue of about 500 references, all purchasable online.
In 2022, lastly, Tannico undertook a new adventure. It's now possible to purchase En Primeur wines, also known as Bordeaux Futures. These are wines available for sale before they're done ageing and bottled. A beautiful opportunity for wine enthusiasts who want to invest in the world of fine wines.
What sets Tannico apart? Its courage, no doubt.

Courage when it comes to our technological choices; courage in the way we innovate; courage in the way we are passionate about what we do; courage in our vision and our development.

In short, courage to dare.

Marco Magnocavallo

- CEO & Co-Founder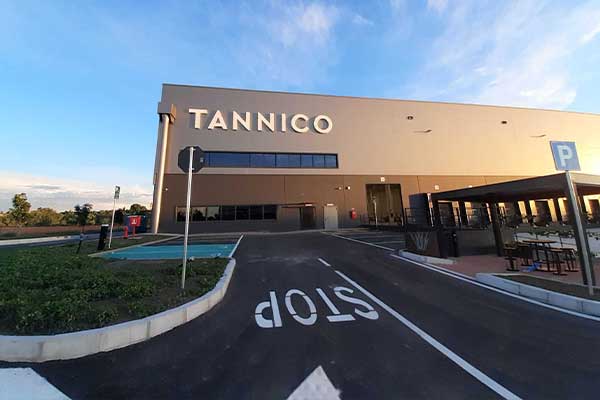 The warehouse of 6.000 sq. m. in Castel San Giovanni (Piacenza) where we store 500,000 bottles coming from about 2,500 wineries.
Tannico Group in numbers:
76 million euros of revenue (year 2021)
Delivers in 23 countries in the world
Over 4,500,000 bottles shipped in the world and 600,000 orders dealt with (year 2021)
Over 12.000 references on sale
2.500 wineries
500.000 in the warehouse of Castel San Giovanni
48 millions euros raised in 6 rounds
PRESS CONTACTS:
e-mail: press@tannico.it
THE PROJECT
Tannico captures the wine world with a brand-new language, moving on from the traditional codes set over the years, both in regard to labels and market dynamics.

The site targets a wide and multifaceted clientele, from fine connoisseurs to beginners, with the passion for wine in common, and most of all the curiosity which leads to new things, perfecting their taste in their own personal way.

On the other hand, Tannico has developed over the years the tools needed to change the market. Top-notch technology and an original and disruptive vision help Tannico changing obsolete dynamics, starting from the distribution network, and cutting out the excess of middlemen.
THE BUSINESS
In 2021 Tannico Group sold and delivered 4,500,000 bottles in the world. The catalogue is wide, as it is the price range for the wines on sale. A team of experts hand-picks and selects small and big wine craftsmen, and some wineries that are exclusively imported in Italy by Tannico itself.

Currently, Tannico sells to clients in 23 countries between Europe and the rest of the world, with shipping time ranging from a few hours in Milan – where you can also pick your favourite delivery time – to 24/48h in Italy and two weeks in the United States.

In order to keep up with the increase in the business volume and the expansion of the reference markets, the company continues to invest and innovate also in the logistics. In 2021 Tannico inaugurated the new warehouse in Castel San Giovanni. The space covers 6,000 metre and can hold 500,000 bottles stored at controlled temperature, this brand-new warehouse is 4 times more efficient than other F&B warehouses in Europe. In 2021 Tannico was able to ship 60,000 bottles per day.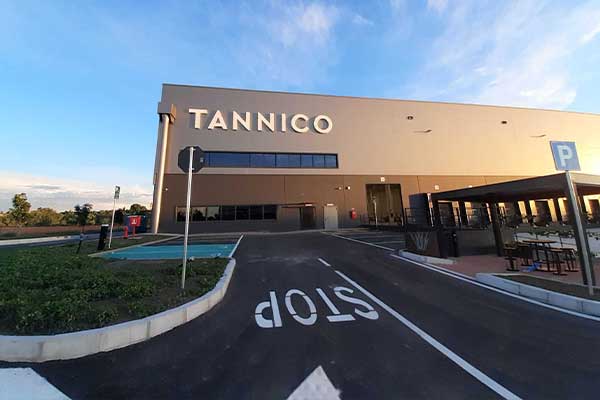 The warehouse of 6.000 sq. m. in Castel San Giovanni (Piacenza) where we store 500.000 bottles coming from about 2.500 wineries.
THE RETAIL AND THE PHYSICAL EXPERIENCES
Starting from 2020 Tannico strengthened its brand by opening a flagship store in Milano: Tannico Wine Bar, inaugurated July the 1st in via Savona 17 in the core of the design district, and Tannico Wine Corner within the great project of Mercato Centrale, nearby to Milan station. Both are wine bars with an important difference: in the flagship store, wine is paired – from the Italian Aperitivo to after-dinner – to a gourmet and very season-based cuisine. Tannico Wine Bar organizes lots of events in their premises, like the Tannico Flying School and the Master Experiences. At the Wine Bar, guest chefs – famous food gurus in Milan scene – honoured us with special collaborations too, and their high-end meals were always paired with wines specifically picked by Tannico's sommeliers. The corner in Mercato Centrale represents the only wine shop in the food court project.
Tannico Group in numbers:
76 milioni di euro di fatturato (anno 2021)
Delivers in 23 countries in the world
Over 4,500,000 bottles shipped in the world and 600,000 orders dealt with (year 2021)
Over 12.000 references on sale
2.500 wineries
500.000 in the warehouse of Castel San Giovanni
48 millions euros raised in 6 rounds
PRESS CONTACTS:
Elena Straccamore
mobile: +39 3406898073
e-mail: elena.straccamore@tannico.it
press@tannico.it